Loungewear is often overlooked for just one reason; no one will see you in them. If for that reason you shy always from investing in loungewear, you are making one big mistake. Staying stylish also demands that your loungewear is of contemporary fashion.
---
Loungewear for Men
Loungewear contrary to popular  believes are not designed for women only. They have crept into the men's fashion scene and are making quite an impression this modern era.  There is nothing as comfortable as getting home after a hard day at work just to slip into a clean loungewear. Whether they are designer loungewear, pajama shorts or a regular t-shirt the feeling of comfort they can bring at night cannot be overemphasized.
Allow this handful guide lead to the best loungewear in today's market.
Best Men's Pyjamas to Buy Now
There are a lot of men out there who don't even wear pyjamas at night. Sometimes gifting those men a set of designer pyjamas are the ultimate gift item they could ever wish for. It's not like some of them purposely decide not to use pajamas it's just that they haven't given it a taught. Well, pajamas are trending in the 21st century and I think every stylish man should have a couple in the closet.
For a good set of pajamas take a quick look at those from Marks & Spencer. Nice pajamas set would include two-piece pajamas, men's lounge shorts, t-shirt, dressing gown and a nice underwear.
Men's Cool Dressing Gowns
Dressing gowns are a man's best friend in the evenings. Some of the more stylish ones are very costly so they are highly treasured possessions.  The kind of dressing gown you buy can depend on a lot of factors and personal preferences.
The very basic dressing gowns are the most popular although you can opt for a more lavish dressing gown just to accentuate your style. Alternatively, you could pick a gown based on the material type, while some might prefer a toweling like material for when they get out of shower others could opt for the luxury of a soft wool fabric.
Speaking about high-end loungewear, check out David Rose and their dressing gown collection. Made with very rich fabrics they offer quality and a costly price. Prices between $200 to $2,600 for luxury gowns by David Rose are commonplace.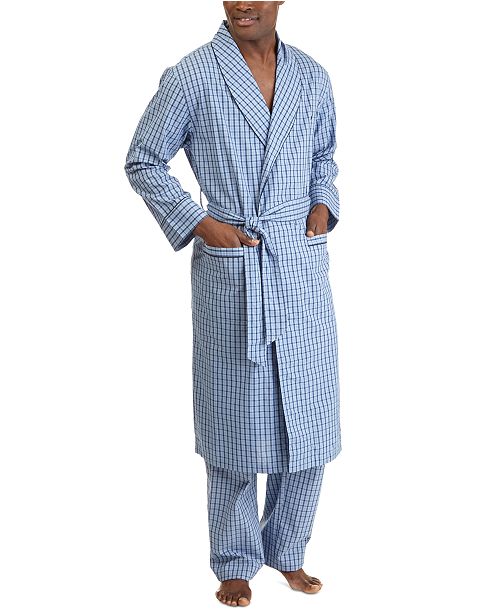 Men's Calvin Klein Loungewear
Calvin Klein is a popular brand that needs no introduction. Be rest assured if its form Calvin Klein then it must be of high quality, nothing could be more true with their pajamas.  CK has taken the men's underwear by storm, rolling out key pajamas and loungewear pieces in a timely manner.  If pajamas aren't your thing you can opt for their well-priced joggers or T-shirt which can equally do the job.
The brand image of Calvin Klein does a lot of selling for them. If you want to spend a few bucks on a quality loungewear CK is the brand name to go.
What are the Best Alternatives to Pyjamas
We get that every day "Pyjamas are not for me", "I don't like pajamas". If pajamas are not your thing there are other nice alternatives that can equally do the job. Think regular T-shirts and joggers. They can serve the same function but you should not sleep in them.
Apart from Calvin Klein, Ralph Lauren is another brand killing it. These two brands are well worth the investment. Newbies to the loungewear fashion should start off by buying the basics in plain colors before moving to more darling options. You will be spending a lot of them in loungewear so it's important you get something you are comfortable with. Read up customer reviews if you are buying online or better still go buy them in person so you can get a first-hand feel of the material.
Tracksuits for Men
Tracksuits are somewhat an alternative to loungewear. They are the popular choice for exercise and various early morning routine. What you lack in loungewear you can make up with tracksuits.
The materials of tracksuits tho, are not as luxurious as those of loungewear but would be generally thicker which makes them ideal for winter. Keep your tracksuits for exercising and indoor activities only.
In Conclusion
Gone are the days were loungewear where thought to be for women only, nowadays men are rocking them in style. This is the 21st century, wake up to the reality of classic loungewear for men. The excuse that you won't be seen in them is unfounded. Go out there and shop your style taking into consideration comfort and fabric type because you might be spending a lot of time in them at night.