Polarized and Non Polarized Sunglasses for men
Summer and hotter months require that you get your hands on a good pair of sunglasses. Investing in a good pair of sunglasses is worth every penny in both the short and long run. Sunglasses are functional as well as practical pieces that can take your sartorial style to the next level.
A quality pair of shades that suits your dress and face shape will make you more attractive and stylish. However, most people are carried away by looks rather than by function. If you are to invest in a quality pair of shades it's imperative that you know exactly what the function is. Don't take your eyesight for granted, using the wrong glasses can damage it.
In terms of price, there are two categories of people: those who invest in cheap sunglasses and those who rather opt for expensive designer glasses. The first category buys a reasonable amount of sunglasses all year round following in with the trend while the latter chooses to spend a couple of dollars for designer frames that will last a lifetime.
Polarized Sunglasses for Men
Meaning
What does polarized mean?
To polarize means to restrict the vibrations of a transverse wave in one particular direction. Sun rays are polarized on the surfaces of driving mirrors, mountains, seas, and other surfaces. Polarized sunglasses work by eliminating glare that is a result of sun rays reflected off horizontal surfaces like roads and water bodies. These reflected rays become concentrated causing glare.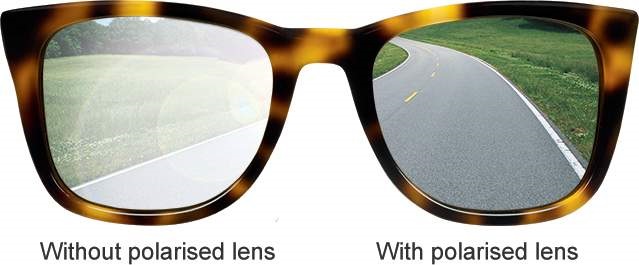 Polarized sunglasses work by eliminating these concentrated horizontal rays allowing only vertical rays through.  You will notice this effect when you approach shining surfaces like the sea because of the drastic reduction in brightness of those surfaces.
Now we are aware of the meaning of polarized sunglasses, what about non-polarized sunglasses? The difference almost stares you at the face. Non-polarized sunglasses do not have the ability to eliminate glare but are constructed with a darker shade that reduces the intensity of light. Non-polarized glasses don't take into account the direction light hits it (horizontal or vertical) they only serve to reduce intensity.
Polarized Vs Non-Polarized Sunglasses for Men
In terms of function, both are actually good. It just depends on when and what you want to wear them for. There are instances where using a polarized sunglass is not advisable and vice versa. If you are skiing, polarized sunglasses should be avoided because they block horizontal rays that come off icy patches. You need these rays so that you can identify hazardous areas.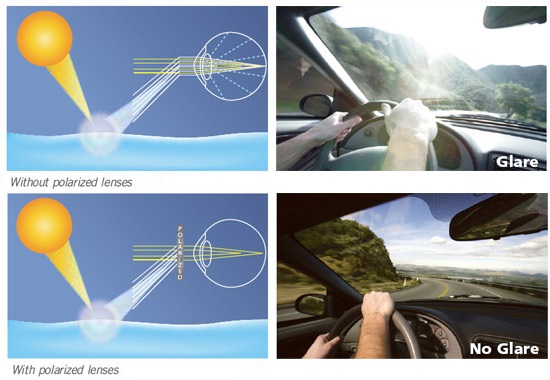 Polarized sunglasses can reduce the visibility of the rays that come off liquid crystal displays or LEDs from the dashboard or other places of the car. What you need is to reduce the intensity not eliminate it.  Outside of these, polarized sunglasses are appropriate for sporting activities.
Major Benefits of Using Polarized Sunglasses
Over non-polarized these are the major benefits of using a polarized shade:
Visual Comfort and clarity is improved
Reduced eye strain because glare is eliminated
A true perception of colors is attained
Heightened protection against short wave ultraviolet B (UVB) and long wave ultraviolet A (UVA)rays from the sun.
Cons of Using Polarized Sunglasses
They can't be used for important activities like driving or skiing. They make it difficult to view rays from LCD screens from your phone, navigation system etc.
Because of the technology involved, they are more expensive to buy.
Investing In a Pair of Polarized Sunglasses
Are they really worth the extra investment? For most people yes, for others not so. If you visit the pool or partake in water sporting activities regularly you should consider buying a polarized sunglass. They are extremely beneficial, helping to eliminate glare.
If you drive a lot, consider buying a polarized sunglass because of the horizontal rays reflects of the hot summer roads in long trips. They will help reduce discomfort and fatigue.  The high price tag might not be worth the investment if you don't partake in activities that require polarized sunglasses.
Best Polarized Sunglasses for Men
When it comes to picking the best-polarized sunglasses, the function must be considered before style.  Protection is a top priority, how well does it prevent glare.
Ray-Ban Polarized Sunglasses
Ray-Ban is at the forefront of designer sunglasses for men. They make some of the most stylish pieces in the industry with quality and function second to none. Founded in 1937, Ray Ban quickly rose to the apex of eyewear and has long gotten into the polarized sunglass industry.
With 70 years of innovation and top-notch technology their sunglasses guaranteed to block 99% of reflected horizontal light. Their lenses are in three different qualities ranging from the simplest to the most complicated and sophisticated.
How to wear Polarized Sunglasses
Sunglasses have the ability to make or break your outfit.  For those who are already used to wearing sunglasses, they can often feel incomplete without one. During summer, you have to make sure you are equipped with the right shades for protection.
Summer Holiday (Hot Weather)
Accessorizing a suit, casual shirt, chinos and boat shoes with polarized sunglasses speaks volumes about your style and taste during a summer holiday. Keeping things on a casual vibe is a sure way to go about it. Complement the dark shades with an equally black belt to match.
Cold Weather
Although sunglasses were made for sun rays and hot weather they can still be styled during cold or cooler days.  Using sunglasses during the cold is more of a fashion style than function. They add a subtle cool look to your dress ensemble.  Layer up with jackets and fur materials to combat the cold.
The Right Sunglasses for the Shape of your Face
If you must wear the right sunglasses, you have to consider the shape of your face. Sometimes getting it right might prove difficult.  Follow these laid down principles to locate the right pair for your face shape.
Oval Faces
Oval-faced shaped individuals a have very little to worry about when it comes to picking the right pair of sunglasses. They pretty much blend in with whatever shape they want. The oval shaped face is the universal shape for fitting in any pair of sunglasses.
Round Faces
Angularly shaped sunglasses are best for Round faced individuals. Round shape like those of a baby, the angles in angular sunglasses will help add refinement, lines, and structure to the shape.
Triangular Faces
Or heart-shaped, this shape is best suited with frames that are wider at the top and thinner at the bottom.
Square Faces
To balance the looks of a square face opt for round shaped frames. This should soften your angular features.
Polarized and Non-Polarized Sunglasses for Men (Summary)
UVA and UVB rays are the two harmful rays from the sun. Polarized sunglasses help eliminate about 99% of harmful rays.
Polarized sunglasses eliminate glare emanating from shinning surfaces
Non-polarized sunglasses are best for skiing and areas where reducing light intensity is paramount.
With polarized shades, it's difficult to see LCD and LED screens.
Make sure you pick the right sunglasses for the shape of your face.
Final Word
Polarized vs Non-polarized, which one is best for you depends on what you will need them for. Sincerely speaking both of them are good in terms of styling but when it comes to function Polarized sunglasses are the best. We'd recommend that you get a few quality polarized sunglasses because of protection and also purchase a couple of non-polarized sunglasses for style purposes.