Cocktail Gifts for him
---
See our gifts for him section for other ideas and inspiration
---
Personalized 7 Deadly Sins Glasses – Set of 7
"Raise a toast to the devilish dynamo in your life with award-winning cartoonist Mort Gerberg's sinfully witty, illustrated glasses. Each of these classic, double old fashioned glasses is etched with a caricature of one of the Seven Deadly Sins. Immortalized by the likes of Dante and Chaucer, these infamous vices come scrambling out from the underworld in the form of an unruly pack of incorrigible illustrated imps. Plus, you'll give the set's recipient extra incentive not to share since each wickedly clever glass comes personalized with a special date, monogram or name on the bottom."
Check out these products
| | | |
| --- | --- | --- |
| | 18 Piece Set | Liberty Classic |
Whiskey Tasting Kit
"The cleverly printed package has everything you need to cultivate your appreciation for the subtleties of this extensive family of liquors: a specially-designed handblown tasting glass, two booklets for tasting notes, and even a branded ballpoint pen to facilitate your journaling. The booklets–one for Scotch and one for bourbon and rye–include "terms demystified" and thoughtfully organized log pages designed to capture your observations on color, flavor, and general reflections on each taste.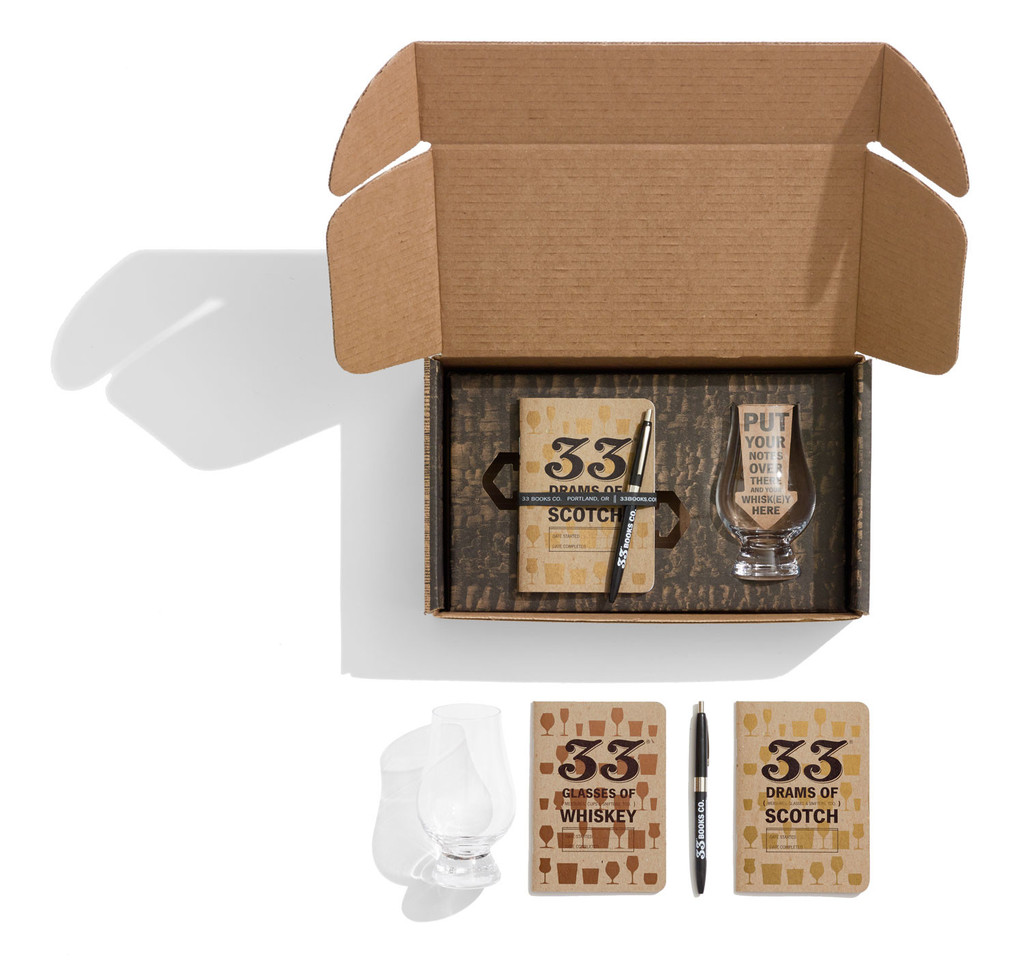 The box and books are designed and printed in Portland with soy ink (to which a little whiskey has been added for each edition on press!), and 100% recycled paper. It's a great gift for any whiskey lover–from the novice to the seasoned aficionado. Pair the kit with a bottle for the ultimate whiskey-lover's gift!"
Check out these products
| | | |
| --- | --- | --- |
| Whisky Connoisseur Mas | Whisky Conn. Canvas | Whisky Conn. Deluxe |
The Many Varieties of Whiskey Wood Engraving
"Raise a glass to the finest liquid known to man–whiskey! Whether your preference is Irish or Scotch, bourbon or moonshine, you'll find it here on this spirited infographic which breaks down the varieties by region as well as age, malt and brand. All of that information is laser-engraved onto a handsome sheet of cherry plywood, accented with an engraved cork disk proclaiming that 200 varieties of whiskey are cataloged in the piece. The wooden textures accented with two steel bands evokes traditional whiskey cask, but does so with a warmth that looks at home over your bar or in your office. Comes framed in walnut and ready to hang."
Check out these products
Absinthe Making Kit
"You don't need a still or a garden of obscure botanicals to make your own fragrant absinthe with this DIY kit. Just add your favorite high proof neutral spirit–the kit has everything else to transform the liquor into the storied "Green Fairy" beloved of 19th century artists and writers (without the notorious neurotoxins of Bohemian legend). The key to the kit is a blend of eleven certified organic botanicals from around the world–including Fennel, Anise, Licorice, Hyssop, Angelica, and Artemisia–which add heady complexity to the brew. The kit also includes a 500 ml Tortuga antique green bottle with custom-designed label, a 4 inch funnel, a natural coffee filter, and easy instructions for brewing your absinthe."
Check out these products
More Ideas
If you are looking for Cocktail drinks to gift, watch this video of the top 10 cocktail drinks for men for some cool ideas
Whiskey Pen
"Pour over the details and distill some creative spirit into all your writing with this intoxicatingly clever pen perfect for the whiskey connoisseur. Drawing inspiration from the popular dram, Merrie Buchsbaum's caramel-hued pen is handmade with resin tinted and textured with hand-ground malted barley from a Tennessee distillery. Infused with actual ingredients from the Bourbon belt, each one-of-a-kind pen is housed in a handsome maple wood gift box. Handmade in Connecticut."
Check out these products
| | | |
| --- | --- | --- |
| Barrel pen | Pensonalized Pen | Engraved Barrel Pen |
Stone Drink Dispenser
"Enjoy your favorite spirits on the rocks—or from the rock to be more precise—with this unique stone drink dispenser. Crafted from rough-hewn, cobbled granite equipped with a stainless steel tap, Jeff Henderson's sturdy bar fixture dispenses wine or spirits with ease while celebrating the natural beauty of stone. Details like the naturally tumbled beach stone handle on the tap add organic sophistication to this functional design."
Check out these products
| | | |
| --- | --- | --- |
| Liquor Dispenser | Liquor Decanter | Handmade Decanter |
Whiskey Stones & Gift Set
"These innovative soapstone cubes were designed by Andrew Hellman, a big fan of single malt scotch, who wanted to chill his spirits without diluting them. After much research, he came up with the idea of using natural soapstone to chill drinks due to its softness (won't scratch the glass) and its unique ability to retain temperature for extended periods of time. Milled in Perkinsville, Vermont by the oldest soapstone workshop in the United States. Glasses made in Slovenia & the Czech Republic.

Simply freeze the stones. Add three to your next drink, let stand for five minutes and enjoy. Sold as a set of nine."
Check out these products
| | | |
| --- | --- | --- |
| Titanium Stones | Gold Edition | Stainless Chilling Rocks |
Personalized Tree Trunk Glassware Duo
Toast all the little things you love about each other that make your romance unique with Jennifer Fillinger's beautiful hand-engraved glasses.

Jennifer is the third generation in her family to carry on the lost art of stone wheel engraving, and her arboreal tribute to romance features an intricate faux bois pattern based on her original illustration. To give each glass a personal touch, she diamond engraves the lovebird's initials and the date of their anniversary in the "bark."
Check out these products
City Map Glass
Something about sipping a full-bodied bourbon after work brings you right back to that local watering hole where everyone actually did know your name. Whether you had your initials carved on the corner bar or you simply miss your favorite metropolis, this glass set lets you raise a toast to hidden gems and great memories with designer detail.
Created by Boston-based designer Brian Johnson, these glasses feature an intricate city map that sprawls along the curves of the vessel. Interspersed street names and the locale's coordinates offer an unexpected way to show off your own stomping grounds. Glasses made in Ohio and etched in New Hampshire.
Check out these products
| | | |
| --- | --- | --- |
| Washington DC | Boston | San Diego |
Personalized Whiskey Barrel
"More than just a handsome homage to a whiskey-loving couple, this miniature oak barrel ages spirits to peak flavor, just like its full-sized siblings found in professional distilleries. Its petite proportions accelerate the aging process, meaning that the recipient's choice of liquor will hit its prime up to ten times faster.
Oak is beloved of distillers because it imparts flavor to spirits through three main compounds: Lignin, which adds vanillin for vanilla and marzipan-like flavors, lactones, which give rise to buttery, coconut notes, and tannins, which add astringent, spicy flavors. Before first use, make sure to cure the barrel for 3-5 days, as mentioned in the included instructions. Turn the barrel and taste the contents weekly, and when they reach their ideal oakiness, enjoy a glass straight from the tap."
Check out these products
Golf Ball Whiskey Chillers –

Set of

2
"Your golf game is never watered down, so why should your whiskey be? Celebrate another successful day on the greens or treat your favorite sports enthusiast with these golf ball-inspired chillers. The set is packaged in a handcrafted, giftable wooden box, and is sure to become a summer (or, let's get real, any season) essential in your bar set-up. Chillers made in China. Wooden box handmade in Minneapolis, Minnesota by Darrell Kramin and his team."
Check out these products
| | | |
| --- | --- | --- |
| Vina Ice | Golf Ball chillers | Ice Cube Tray |
Himalayan Salt Tequila Glasses- Set of 4
You like your beer craft brewed, your wine perfectly aerated, why shouldn't your tequila get a bump up from the salt shaker and lime wedge standard?
Made from Himalayan sea salt, these festive glasses are highlighted by the thinly veiled, translucent appearance of rose quartz. Perfect for tequila or even mezcal, these innovative vessels offer a salty twinge to your taste buds, but with a more nuanced flavor than ordinary table salt. Salt is naturally antibacterial so you don't have to worry about cleaning mid-fiesta, and the strong salt minerals keep the shot glasses strong through many festive toasts.
Check out these products
Bad Idea/Good Idea Shot Glasses – Set of 2
"Set up some morally ambiguous shots with these self-deprecating glasses. The set of two features ironically contradictory gauges of judgment: one characterizes a full shot as a "good idea" and an empty one as a "bad idea," while the other indicates just the opposite. So when you serve up your shots with this set, you can't lose…or maybe you can't win. You be the judge. Made in the USA."
See also gifts for bartenders